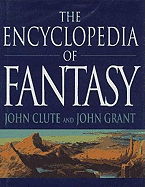 This gigantic volume covers a broad range of topics, authors, movements, themes, subgenres, and more in fantasy literature. With all of its 4,000 entries, it addresses fantasy in several different mediums of fantasy outside of literature, such as film, television, and art. As other modes of fantasy can inform your research and understanding of fantasy literature, this extensive encyclopedia is a highly useful resource. Especially recommended is its entry on "Fantasy", which explains the genre in an intelligent and clear way, with explanations of terms used in the entry, which can be read to gain more insight.
Call Number: PN56 .F34 E53 1999
Tolkien and the Invention of Myth
The eighteen essays in Tolkien and the Invention of Myth examine the ancient Greek, Latin, Old Norse, Old English, and Finnish sources from which Tolkien appropriated the concepts, images, characterizations, contexts, and theories that inform his own fictional narratives The Lord of the Rings and The Silmarillion. A well-rounded and essential reader for any Tolkien lover, the book includes several essays that provide background and context, explaining Tolkien's literary aesthetic and his interest in folklore, his love of philology, and the philosophical and religious underpinnings of his narratives.
Call Number: PR6039 .O32 Z839 2004