Skip to Main Content
It looks like you're using Internet Explorer 11 or older. This website works best with modern browsers such as the latest versions of Chrome, Firefox, Safari, and Edge. If you continue with this browser, you may see unexpected results.
Blogs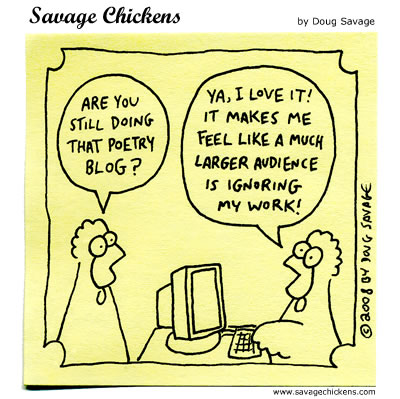 Images: 1) https://www.savagechickens.com/2008/10/poetry-blog.html
Links to just a few of many poetry blogs (see also Top 100 Poetry Blogs, Websites & Influencers in 2021)
Book of Kells: Notes about writing and living creatively
Watch and Listen
Listen to: A Line - Storm Song by Robert Frost
@poetsorg

Instagram account for Poem-a-Day, #NationalPoetryMonth & more from Poets.org.

SpokenVerse

YouTube Channel with poets/poetry read-aloud

Poem in Your Pocket Day

Poem in Your Pocket Day takes place every year on a day in National Poetry Month (April).